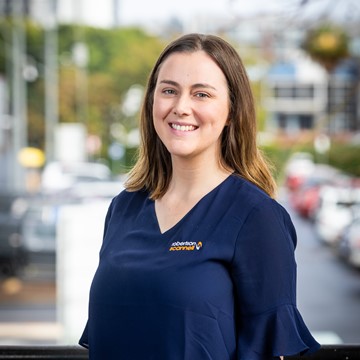 Associate/Senior Business Advisor
Jade Maunder | Globe trotter
Jade is a CPA Senior Business Advisor who is passionate about working with the local community to provide personal and professional development opportunities. During her 11-year career at Robertson Scannell, Jade has assisted businesses in developing their managers and staff, implementing systems and processes to reach their goals. Jade has facilitated various workshops on leadership, change management and strategic planning using tools and frameworks from various sources, including the tools learnt from her time at Macquarie Business School.
As a result of facilitating workshops, Jade has assisted in aligning management teams objectives and mentoring and coaching individual staff members to further build resilience and emotional intelligence personally and within the organization. Jade has contributed to many successful change management initiatives with her clients from automation of processes and adaptation of new technologies to make informed business decisions to planning for the future and understanding what a business needs to implement to achieve their short term or long term goals.
Qualifications: Bachelor of Commerce with majors in Accounting and Business Law (USQ Toowoomba), Certified Practicing Accountant, Macquarie Graduate School of Management. 
Back to All