Looking for a career with a financial firm that values its employees?
We have a great work culture, an active social club and we value the people who work as part of our team. We have a strong focus on training and development and a work culture that encourages and caters for work-life balance, including RDOs.
When recruiting, we don't just look for skills, qualifications or experience. We want people who know how to communicate, have a progressive and proactive attitude and are motivated to learn and advance their skills as part of our team.
In return, we offer a flexible, social and supportive workplace, with a culture dedicated to achieving work-life balance. Whether you're an accountant looking to obtain your CA or CPA, or an administrative professional looking to gain a qualification in your profession, you'll have the opportunity to advance your skills and qualifications as part of our dedication to professional development.
You'll also be part of a friendly team where you're encouraged to show initiative and share your knowledge and ideas. Everyone has a part to play in the end result achieved for our clients and we believe open, honest communication between all levels of staff is the best way to achieve efficient, quality outcomes.
Current job opportunities
We are not actively seeking candidates at this time.
If you would like to apply for a position at Robertson Scannell submit your CV/Cover Letter here.
We are occasionally on the lookout for new employees to join our team in the following areas:
Accounting
Bookkeeping
Financial Planning
Administration
IT
Marketing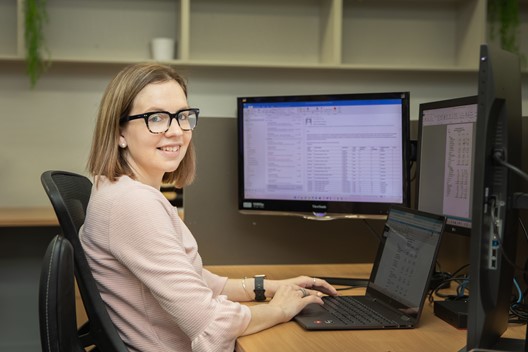 Tenika Murphy - Senior Business Advisor
"Growing up, one of the hardest decisions I had to make was definitely career choice. I wanted to work in a job that I was passionate about, within an industry that I could have a career in but one where I would feel supported to have a family.  I started at Robertson Scannell in January 2015 as a keen junior accountant. My role and position within Robertson Scannell has grown and developed, and I am now an equally as keen senior business advisor. A lot has changed in my professional career but the biggest change has come in my personal life - becoming a mum to two beautiful little girls.
During this new phase of my life, Robertson Scannell has supported me and my family, allowing me to work both in the office and from home. This has enabled me to continue my growth in my chosen career path, but also allowed me to be a mum to my girls as much as possible. The flexibility has meant I am back in the workforce sooner and doing what I love - assisting clients with their compliance and business affairs."